Co-sponsorship home
Workshop details
Benefits of co-sponsorship
Requirements of a co-sponsor
5 steps for a successful workshop
About Academic Innovations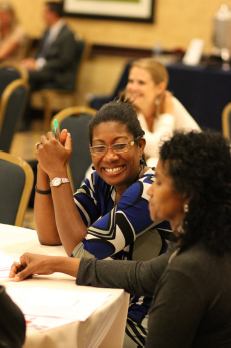 Working with your Educational Consultant, finalize a date. This is predicated on the availability of a trainer to conduct the workshop, so it is best to have three options that are at least two months in the future. Once the date has been set and the trainer finalized, then...


The college liaison will work with their Educational Consultant to fill out the online survey so all required data can be provided to set up and implement this one-day workshop. This will probably require the input of the college staff in charge of facilities, audio/visual/technology, professional development and, perhaps, catering.

This task will be the most time consuming of the process, but we've learned that setting up the workshop information from the beginning eliminates all the back and forth emails later as the workshop draws near. Assume this could take two or three hours to gather this data. Once this survey is complete, the workshop operations team has the blueprint to facilitate a productive and stress-free workshop.


From this digital data, a memorandum of agreement (MOA) will be produced and then signed by both the college representative and Academic Innovations. At that point, the workshop goes live on the online registration system of Academic Innovations, and the Workshop Operations team takes over. You will be hearing from them if there are any questions.


The college liaison and their Educational Consultant will develop a marketing plan for the college's constituency. Academic Innovations, in addition, will recruit from surrounding colleges and high schools for a radius from between 50 and 100 miles. This workshop will give your college an opportunity to showcase your college and its dedication to student success.

The college liaison will identify participants to receive free or discounted registrations and give those names to their Educational Consultant. The Educational Consultant will enter those in the database marked appropriately.

Academic Innovations will be responsible for the registration and invoicing of all participants. They will also be responsible for all communication with participants prior to the workshop, providing the highest quality of customer service.


On the day of the workshop, with the help of the college staff as noted, a productive and informative workshop will be provided that will move participants to take action to facilitate student success when returning back to their respective schools.